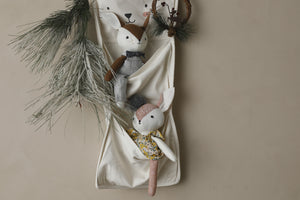 A festive wonderland of Christmas creations
The World We Love
Protecting those we love most is our top priority - our children, our families and the environment! Because we love our children, our products are pollution-free, and because we love our environment, we usually produce less than too much. And we are especially successful in selling 100% handmade items, which you can often pre-order in our webshop. By pre-ordering, you help us to better determine the right production volume.  We make every effort to ensure that when you buy from us, you have a personalized shopping experience with goods that do not come from a factory, but are each unique. Each item, was made by a woman - a mother - with love. We are committed to supporting other small businesses, women and mothers. Therefore, our products are 100% made under fair conditions.
CHRISTMAS COLLECTION
Here you will find our selection for the perfect Christmas look. Transform your baby's nursery into a winter wonderland with our handpicked items that will bring festive cheer to the nursery. Discover the magic of Christmas decorations that are both enchanting and charming.